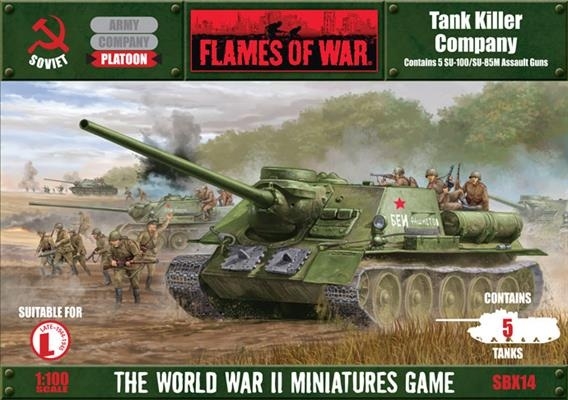 Guards Tank Killer Company + Bonus
Item num.: SBX14
The SU-100 self-propelled gun was the successor to the SU-85. It was based on a
similar, but not identical, chassis mounting a 100mm D-10S gun. This excellent
gun could penetrate 162mm of armour at 500 meters and 150mm at 1000 meters
range.

The hull was improved from the SU-85 assault gun with the addition
of a commander's cupola, the same as that found on the T-34/85 tank. It was
housed in a cylindrical casemate to the right of the gun.

Diese Box enthält:
- 5 Individuell
modellierte SU-100 Assault Guns
- 5 Tank commander
- 5 optionale SU-85M
barrels
- Soviet Decals

BONUS you get one Set from Heer46 "Bergepanzer Zubehör T-34" with this Box.