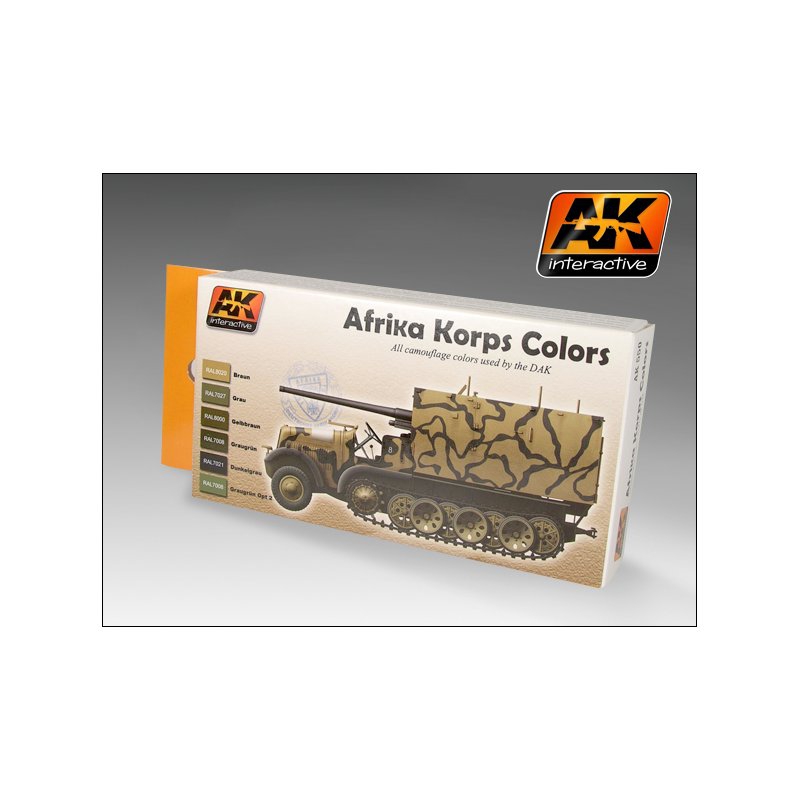 Afrika Color Set
Item num.: Ak550
The Deutsche Afrika Korps vehicles wore 4 different RAL colours: 8000 and 7008 until March of 1942; 8020 and 7008 after March of 1942. Additionally the vehicles were painted in a Panzer Grey 7021 paint base that in many cases was exposed when the paint camo was chip and worn. Finally there is a discussion about the colour of the Tiger I deployed in Tunisia, because some sources identified them in Olive Drab. However, recent researches identify the paint as RAL 8020 but in a more greenish shade than usual. This set present the 6 colours to apply directly without need to make complex paint mixtures or deep research about the colours used by DAK. Additionally, these new colours are subtle modify to compensate the scale effect in models. Accurate and real colours for lovers of precise paint.
This set contains:
-AK700 RAL 8020 GELBBRAUN.
-AK701 RAL 7027 GRAU.
-AK702 RAL 8000 GELBBRAUN.
-AK703 RAL 7008 GRAUGRÜN(O KHAKIBRAUN).
-AK704 RAL 7021 Dunkelgrau.
-AK705 RAL 7008 GRAUGRÜN POT 2.
Customers Who Bought This Item Also Bought: